(Last Updated On: June 19, 2023)
Go to File | Initialization. The Initialization settings window appears:
The Initialization window is where you will setup Wintix to best suit the specific needs of your organization.
Select from the choices offered in the Options 1 tab.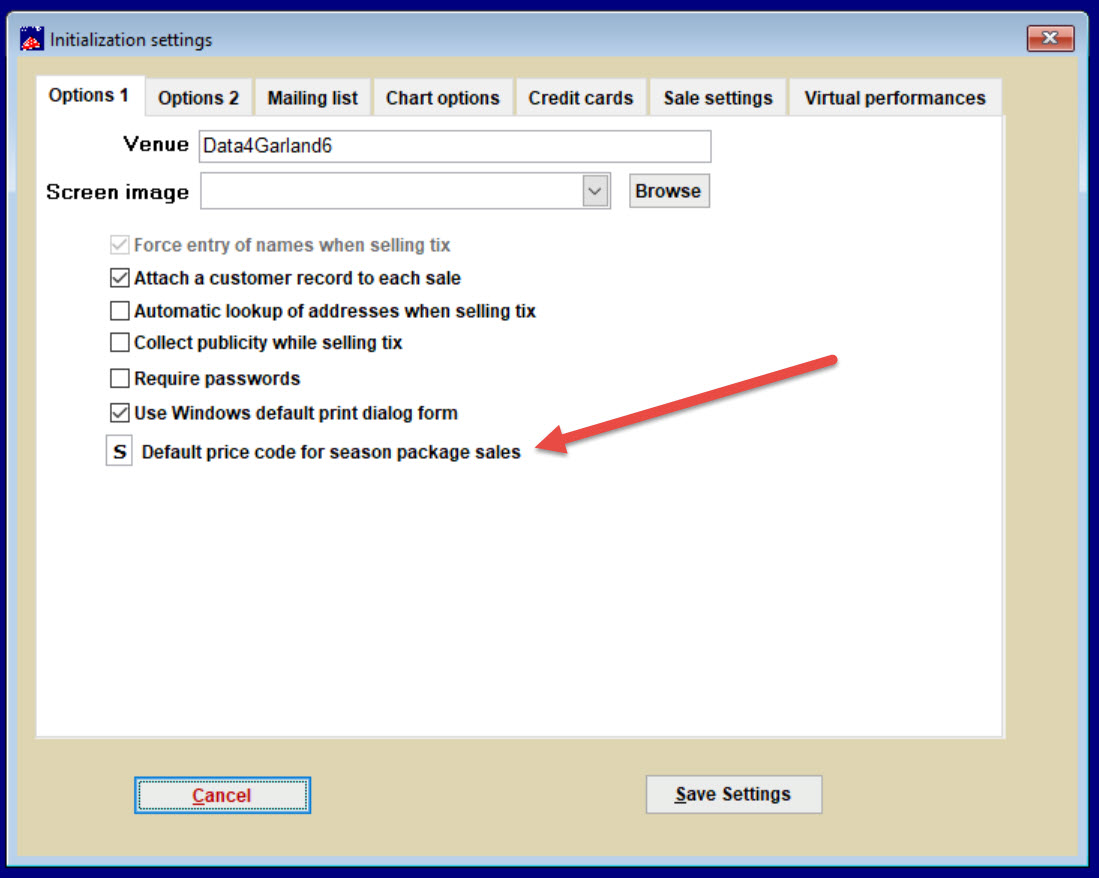 Venue

The Venue field is where you enter the name of the presenting organization or facility. This information will appear on the tickets just as it is typed here.
Screen image

Personalize your Wintix screen with your company logo, cute kittens or whatever you want.
Force entry of names when selling tix

When selected, Wintix will not let you finish a ticket sale without entering at least a customer's last name.
Attach a customer record to each sale

Allows you to keep sales records by customer.
Automatic lookup of addresses when selling tix

 Wintix will automatically look up addresses of customers during a sale so no need to manually enter them.
Collect publicity while selling tix

When selected, Wintix will ask "How did they hear about it?" with each ticket sale. Answers are stored with each sale record for use in the Publicity report.
Require passwords

When selected, all users will have to login to Wintix with a username and valid password. You can then set user "rights" or "privileges" according to the individual needs of your staff. Click on Tools |Password | Edit the list of users to get there. Login as Sysadm.
Warning: Do not turn passwords on until you give yourself permission to turn it off. Go into the password section to do this.
Use Windows default print dialog form

The best option for most operations
Prompt for backup when exiting Wintix

A helpful inquiry. Backing up is essential to your system and business.
Default price code for season package sales

Many theatres use "S" but you can choose whatever you like.