To add or edit payment types, go to File | Payment types.
Wintix has unlimited payment types available for you to define to meet your
needs. These payment types also define any service charges you wish
to assign.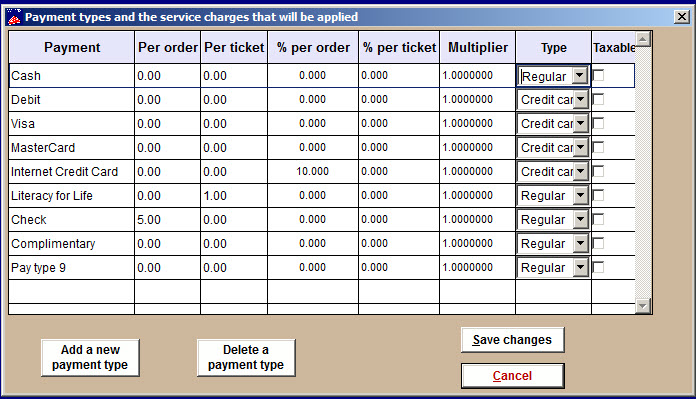 There are eight parts to each payment type:
Pay type – the name of the payment type
Per order – flat-rate amount charged for each order
Per ticket – flat-rate amount charged for each
ticket
% per order – percentage of the total cost
charged for each order
% per ticket – percentage of the ticket cost
charged for each ticket
Multiplier
Type – chose from regular, credit card or gift card
Taxable
Create any payment types you need by clicking Add a new payment type and entering the information you want there. If you wish to delete a payment type, click anywhere in the type and click the Delete a payment type button.  See note below.
NOTE: You should NOT delete a payment type if there have been any sales in that payment type. To be safe, run a Report by Day | payment types to find a listing of payment types that have been used.
Click Save changes to return to the main window.
There are two ways to set up service charges and taxes in Wintix:
Within the show setup for service charges that apply to a single performance
The service charges and taxes are set up globally and applied based on the payment type
selected during the sale