(Last Updated On: January 18, 2021)
As we continue to adjust and modify events due to COVID restrictions, some of our clients are presenting events that will be performed live, but also be available as a streaming show.
Set your streaming event up like a regular show and your patrons will be able to purchase tickets online for either version. You will also need to use multi-charts.
With multi-charts, buyers click on an interactive graphic to purchase the tickets they want.
PLEASE NOTE: We highly recommend you take advantage of our custom services for seating plan and graphics work. They need to contain critical details that our team members are experts in building.
In the example below, patrons could click anywhere on the seating plan to pick reserved tickets for the in-person event.
If they click on the box with the red outline, they can buy tickets for the streaming event, which of course is just one price, and so would not take them to a seating plan.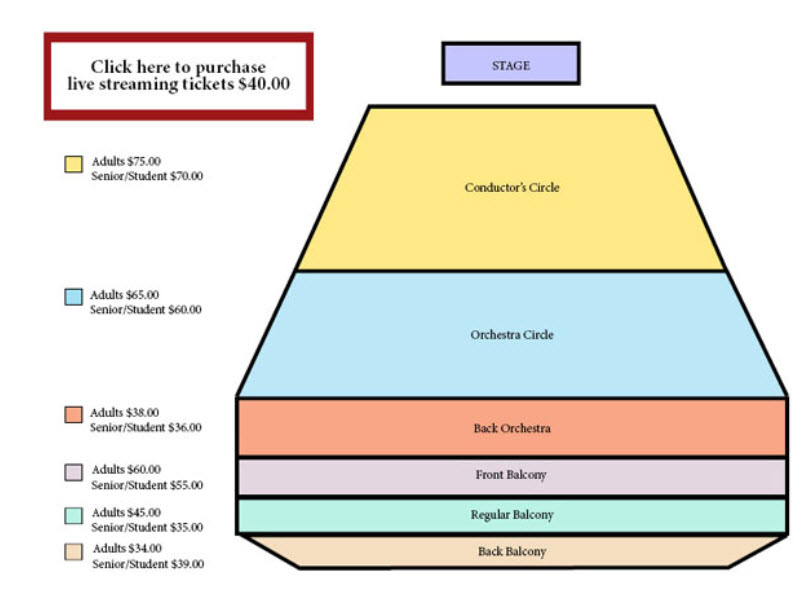 Go to Edit a show | <double click performance> | Edit chart | Edit the entries.
Note that, in this example, there is a seating chart (streaming, general admission) attached to the show. It's called "sost distant ga."
We don't want the chart to appear online. We only want a drop down number of tickets people can buy.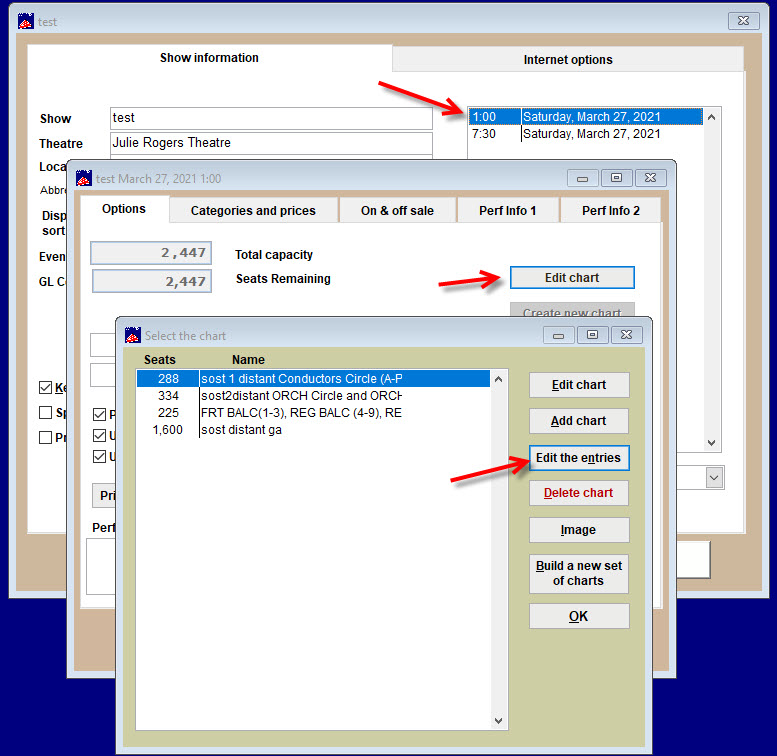 We now see a window that has data for each of the multi-charts.

Select the No chart radio button.
Delete all price codes except the one that is the streaming price.
This will instruct Webtix to just show the dropdown with the streaming price.

The day before  or a few hours before the event, run an email report and send these patrons an email with the link to the event.
Here's an example of one of our clients who uses Zoom for their events. They ran an email export list of all the online tickets that were purchased in Webtix and then emailed the following:
Thank you for purchasing a ticket to the our production of ZOOMplays III on Sunday, October 4, 2020  at 2:30pm. The show will run for approximately 1 hour. Thank you for supporting live theatre. We look forward to seeing you Sunday afternoon. Below is Zoom link for this event. See you at the SHOW!
Topic: Our production of ZOOMplays
Time: Oct 4, 2020 02:30 PM Pacific Time (US and Canada)
Join Zoom Meeting
https://us02web.zoom.us/j/84670201872?pwd=VW5kR1ptY2svTE96c09xejhnZz09
Meeting ID: xxx xxxx xxxx
Passcode: xxxxxx