(Last Updated On: September 4, 2020)
It's important to text Scantix before you start using it.
Add a test show or a performance to a regular show for testing. You can use either a reserved seats or general admission show.
The DATE of the performance needs to be the date you are testing because scanning only works on the day of the event.
Purchase tickets in-house or online.

Note: If you sell in-house, use cash as a payment type so you don't need to void the credit card transaction.
After you have purchased your ticket and completed the sale:
In Wintix go to Sales | Sales records.
Find the sale.
Go to the Tickets tab.
Click the Print tickets tab.
The Printing tickets window appears.
Print the tickets to a PDF.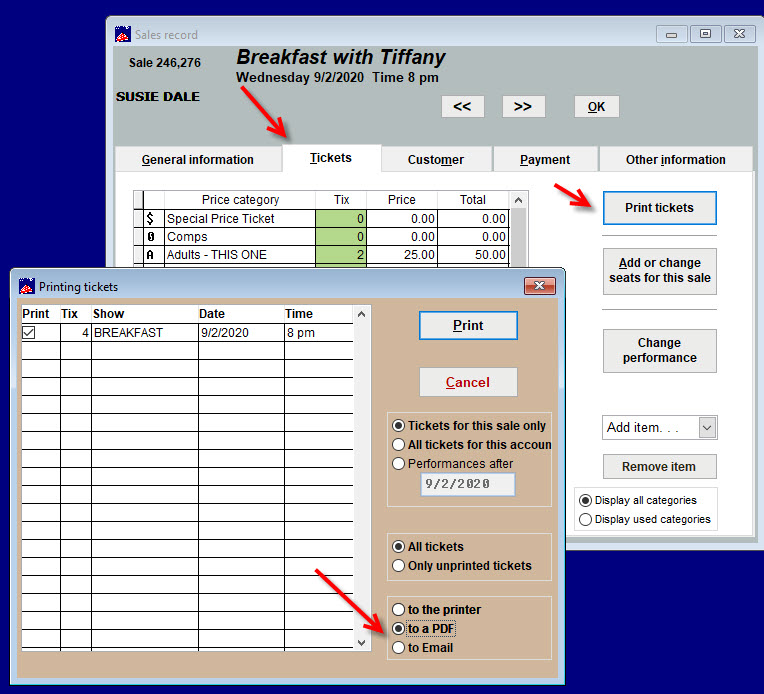 Scan the tickets. Scantix can scan bar codes on a piece of paper, from the image from email or from a cell phone or your computer monitor.
Go into Wintix and click on Reports | Other reports | Bar code scanning to make sure the codes have been scanned correctly.