(Last Updated On: August 12, 2016)
One of our Wintix users reported that after they originally built a general admission show in Wintix, the powers that be decided to move it to another theater that has assigned seats so they needed to add a seating chart to the show/performance.
The show already had sales in it and they didn't want to lose the sales.  They did know they would have to go into the seats and manually assign each sale an assigned seat in the new seating chart.
Here are the directions to make that change.
For shows that have more than one performance date, run a Single Performance report for each performance.
You will now have a list of sale record numbers for all sales done for the show.
Next, attach a seating chart to the show/performances:

Go to Show | Edit a show | Edit date.
Check the Use a seating chart box.
You will see the following message:
You have '# of sales' for this performance.  You cannot remove this performance.  Use the report, by show, single performance to find these sales.  Then, you can either cancel the sales or exchange them for another performance.  Would  you like a list?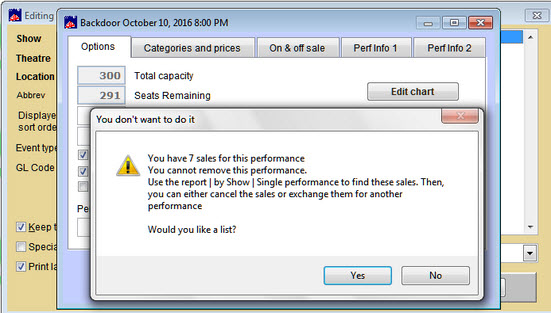 Click Yes.
Here's an example of what the list will look like.
Close that screen using the red X in the upper right corner of that screen.
You will now see a seating plan screen appear.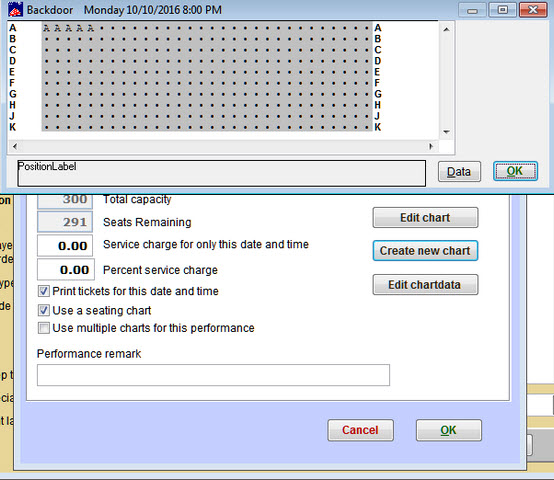 Click on the Data button.
You will now see the Editing the chart data window.
In the drop down list by the Plan name, be sure the correct seating plan is chosen.
This is the plan the chart will be based upon.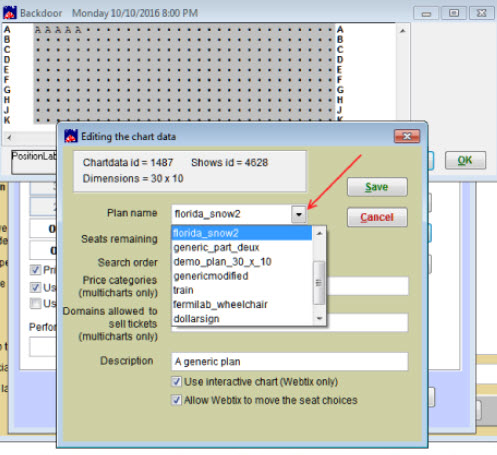 Click Save.
Click OK on the chart screen.
Click OK on the Editing a date screen.
Click OK on the Editing a show screen.
You should now be back to the main Wintix screen.
Now open each sale record on your Run of show/single performance report and do the following for each sale that was done as a general admission sale:

In the sale record, make note of the price category for each of the seats sold.
Click on the Tickets tab.
Click Add or exchange seats.
The new seating chart will appear.
Choose the appropriate number of seats on the seating chart.
Choose the appropriate price category for each seat on the chart.
Click OK.
Do not change the date sold to today's date.
When you're finished with each sale, you will now have seats attached to the seating chart for all prior sales done using general admission seating.
Run an integrity report to be sure you have no sales with an incorrect number of seats on the chart.