(Last Updated On: January 21, 2016)
Wintix has unlimited payment types available for you to define to meet your needs. These payment types also define any service charges you wish to assign. There are eight parts to each payment type:
Pay type –  the name of the payment type
Per order – a  flat-rate amount charged for each order
Per ticket – a flat-rate amount charged for each ticket
% per order – a percentage of the total cost charged for each order
% per ticket – a percentage of the ticket cost charged for each ticket
Multiplier –  is used for foreign currency exchange rates. It gets changed as the rate changes. Then, it gets multiplied by the total number of tickets. Wintix's default multiplier is always set at 1. Do NOT change it to 0 (zero).
Type – choose from regular, credit or gift card for reporting purposes
Taxable – Check if you want Wintix to automatically add tax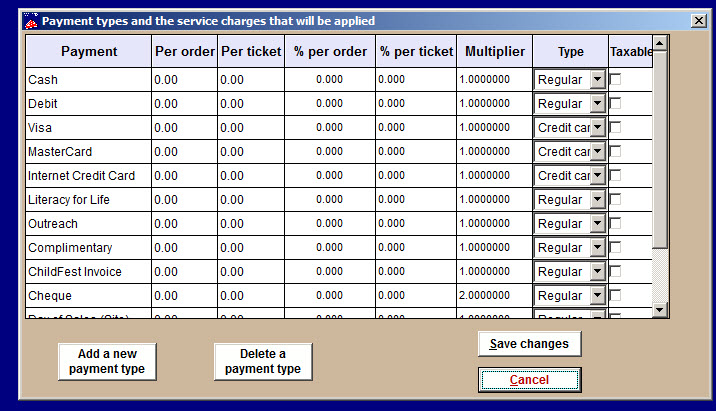 Click on the Save changes button or Cancel button to return to the main Wintix window.