(Last Updated On: July 24, 2023)
Some of our clients do not print tickets at point of sale, but wait until the day of the performance to do a batch printing of unprinted tickets.  Once the tickets are printed, the tickets are placed in ticket envelopes for their patrons to pick up at will call. During the pandemic, this was not happening.  Now that some of our clients have opened up their box offices again, they do a batch print to have tickets waiting at will call.  Here are the instructions.
NOTE:  Many of you are selling your tickets online, so this post will not apply to you.
Go to Tools | Ticket Printing | Print unprinted tix for a performance and click on the Print report button to get a list of printed and unprinted tickets.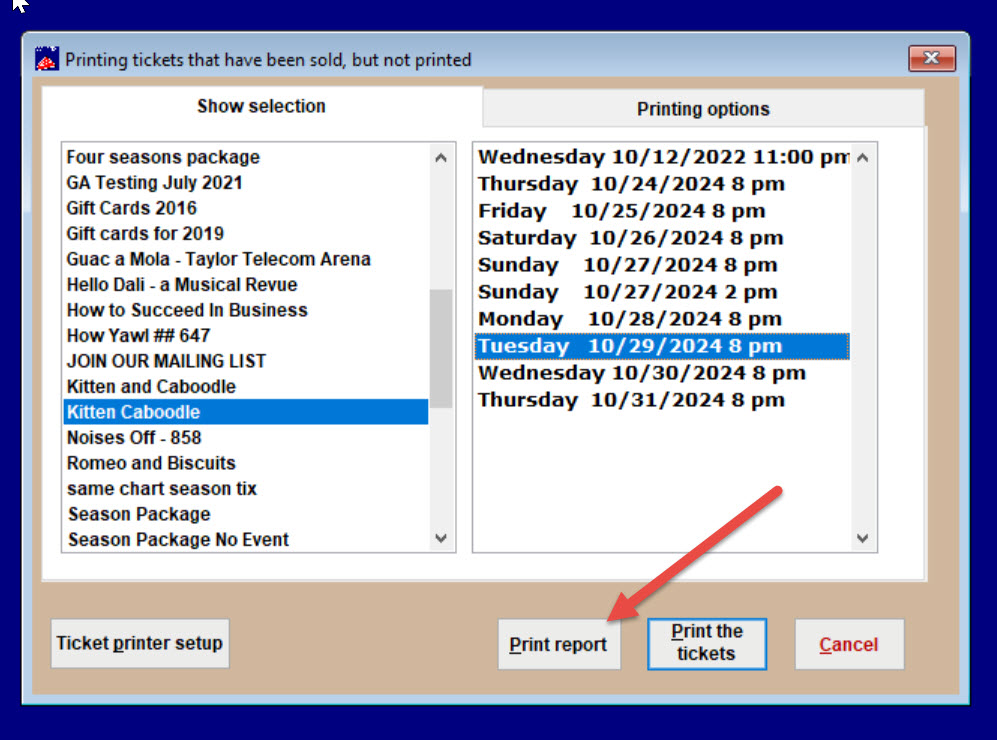 It is important to print the report in order to find the unprinted tickets you want to print.
In looking at the report below, notice there is no date under the Date printed column when tickets have not been printed. Once the tickets are printed, you will see a date they were printed.
By default, we have specifically designed tickets that haven't been paid and show in red as being out of balance to NOT print when batch printing.  Some clients were printing out unpaid tickets and were being distributed without getting payment.  We have designed this feature as a safeguard for all of our box office clients.  Not all box office operations have trained box office personnel to oversee which tickets have been paid or not.