(Last Updated On: December 12, 2018)
Just lift the green latch and feed the tickets in. Once done, the ticket printing will continue.  There is a buffer within the printer memory.
If you turn off the printer for even a few seconds and turn it back on, you'll lose some of the data that was in the buffer.  Depending on the amount of information left, all the information within the buffer may be totally erased.
For very long ticket runs, (like 50+) if you turn off the printer, you may lose 10 tickets in the run. Once you turn the printer back on, you may get the remaining 40 tickets or so.
Turning the printer off does erase data in the printer's memory, requiring the operator to re-do something.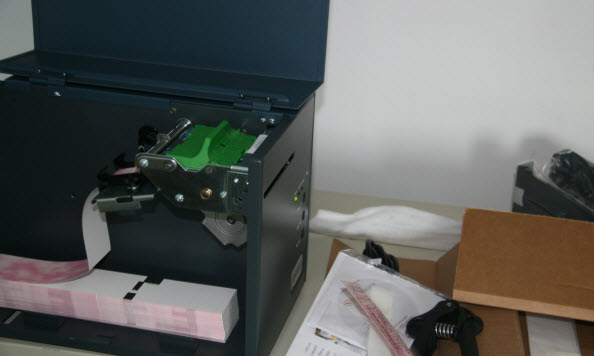 To feed the ticket stock through the printhead, you must first unlock the green latch (all the way back to unlock).
Once unlocked, lift the green latch upward in order to feed the ticket.