(Last Updated On: April 7, 2017)
A client of ours had a duplicate sale that also had a donation. When they cancelled the duplicate sale, the duplicate donation was still in the sale and in reports, even though they tried to delete it.
In this case, we told them:
Go into the Sale record and click on the Payment tab.
You will see there is a donation in the Donation field.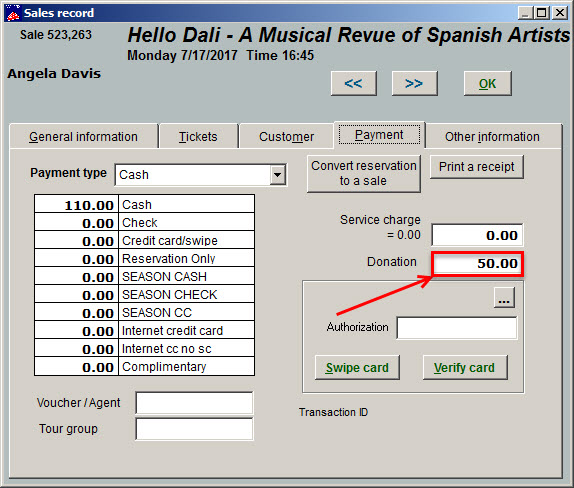 Click on the Other information tab and click the Cancel the sale button.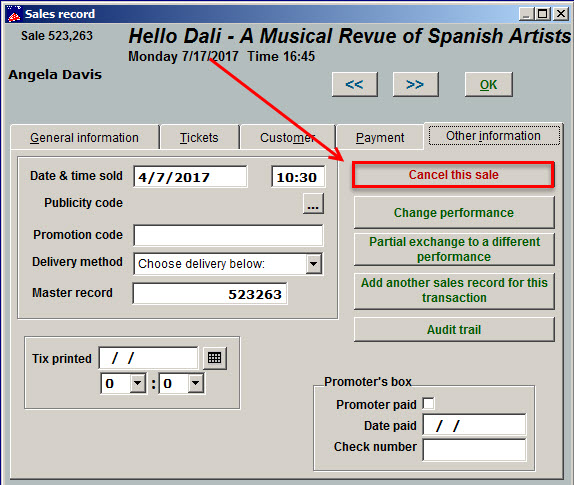 We recommend entering a donation event as a season package.
You can add a donation event either has a single show or season package. It all depends if you have a specific ending date for your donation event or if you want to have the event as a non-specific date. Did you know you can accept donations online as well? That is also covered in our Help Desk link above.
Regarding handling donations in house, see the screen shot below. Have your box office personnel use the special price tix and enter 1 and enter the amount of the donation. This way if you have to cancel the donation, Wintix will zero out the actual donation. Another way of setting up your donations is create levels of donations for Price A, B, C, etc. The above Help Desk link shows that as well.