(Last Updated On: January 21, 2021)
As soon as you go to Sales | Regular Sale or Sales | Season package sale or Sales | Quick Sale, Wintix creates a sale record number.
Occasionally, some sales records never complete, but seats are still attached to the sales record number.  This scenario happens more with online sales, but occasionally it happens during an in-house sale in Wintix.
NOTE: Wintix does release seats automatically at a time of your choosing. Learn more here.
In that case, you have seats attached to a sale number, but going to Sales | Sales Record | Search by sales number – you get the message 'No record of Sale ______.'

The only way to release the seats is by going to Edit the chart in the show setup.

If there was actually a sale record that you could bring up and edit, then you wouldn't want to release the seat by editing the chart because that would return the seats from an actual sale record.
The way to release the seats is to do the following:
Click on Show | Edit a show | <name of show>.

Double click on the performance date.

Click on the Edit the chart button.

The chart will appear.

Click on one of the seat(s) you need to release.

You can see the sale number in the lower left corner.

Now, double click on that same seat.

Click on the Release this seat and make sure the sale number changes from XXXX to 0 (zero).

If the sale number doesn't return to 0 (zero) automatically, you can manually type in 0 (zero).   Make sure the sale number has been changed to zero – this is very important so you will be able to sell those  seats.

When the seat is released, the window looks like this: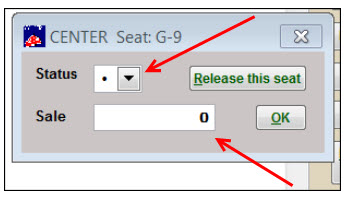 Click OK.
Close out of all Editing a show windows.

You can now sell those seats.