(Last Updated On: January 18, 2016)
Here is what to do:
On your computer, go to your devices and printers area of Windows.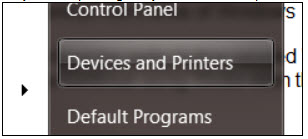 Once you click on Devices and Printers, you will see a listing of printers.
Right click on the printer and choose Printer properties.
Click on the Advanced tab.
Generally, we recommend choosing the radio button labeled Print directly to the printer.  However, in some cases,  this causes a delay in printing.
If this happens to you,  then choose the radio buttons labeled Spool print documents so program finishes printing faster and Start printing immediately.
After the radio buttons have been chosen, click on the Apply and OK buttons and you're done.

Try printing tickets in Wintix. You should see a major difference in ticket printing now.