(Last Updated On: February 13, 2015)
One of our clients is using a Boca PCL (Windows) printer. She emailed us: "I put the Boca back with our main computer and it will print tickets but it will only print one ticket per sales order.  I looked through my settings and I'm not sure why it is doing this."
If your Boca printer is only printing one ticket per sale record, no matter how many tickets were sold in that sale:
More than likely, it's the paper size settings in the printer that is causing this issue.
If you're using Letter size paper in the Boca printer driver in Windows, then your ticket format will need the detail band set at the 5″ mark.
In Wintix, click on File|Ticket setup|Windows printer setup.
You should now see the Label Designer window with the default ticket format, named Lasertix.lbx, opened.
Click on the Detail band and hold the left mouse key down while you drag that band down to the 5″ mark on the left side of the designer window.  (See screen shot below.)
Click on the red X on the upper right of the label designer window.
You will see a message Do you want to save the changes to label designer – lasertix.lbx?
Click Yes.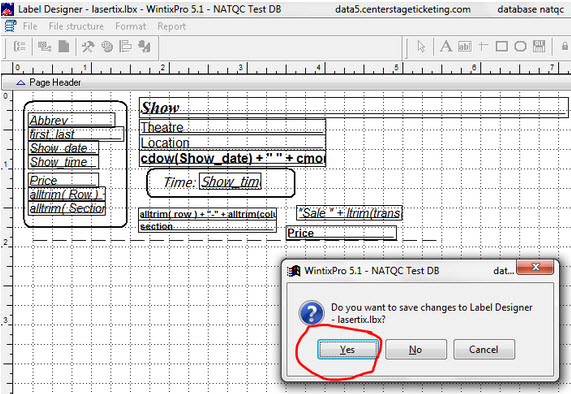 You should now be back to the Ticket printing setup window in Wintix.
Now bring up a sale record that has more than one ticket sold and print all tickets.
The Boca printer should now print all tickets in that sale.