(Last Updated On: September 25, 2018)
A fan club in Wintix is a group of people who qualify for advance purchase at a special price. This is usually because of a previous sales history in Wintix. It does not have to be based on this. Any collection of people that you put into a mailing list group can be part of a fan club. For example, levels of donors can become members of a fan club who are then given special prices or advance access to seating at shows. Also, fan clubs are an efficient way to hand out comps to specific people (ie: cast comps).
An event can have multiple fan clubs with multiple prices and on-sale dates.
Create a new group and enter names
Click on File | Mailing list groups and enter a new group. Also give it a Group domain (so they can buy tickets online) and decide if you wish to disable the link to the Fan Club price after it has been used.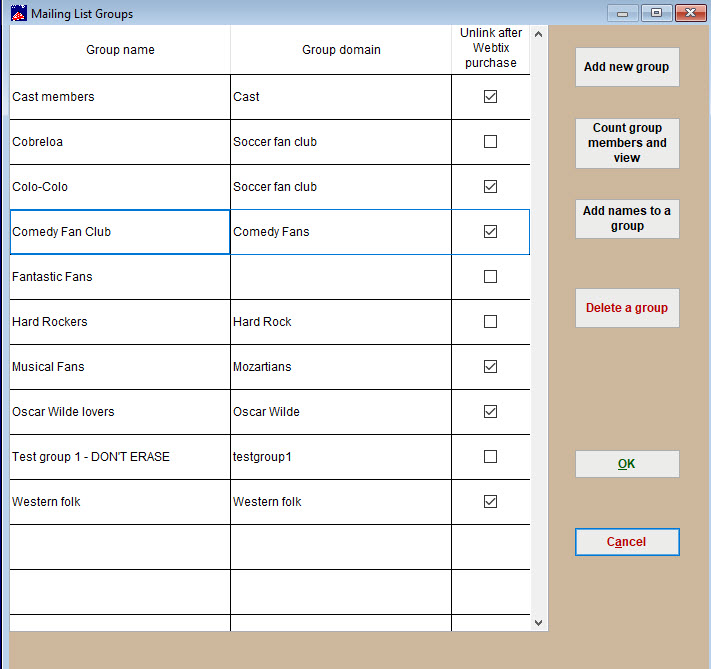 Adding names from existing sales
While still in File | Mailing list groups, click on the Add names to a group button. You can add names to a group based on their attendance in a particular show.
When you are done, you can look up each customer and confirm that they are members of the Fan Club group.
Adding names from a list
A promoter may have a list of people that they wish to have special prices. Or you may have run a campaign asking people to sign up for a Fan Club.
Put the list into Wintix
You can manually enter each name into Wintix and assign them as a member of the group. If there are a lot of people on the list, you may want to have Center Stage Software input it for you.
Make them members of the fan club mailing list group
In a customer record, go to the Group assignments tab and check the box next to the Fan Club group.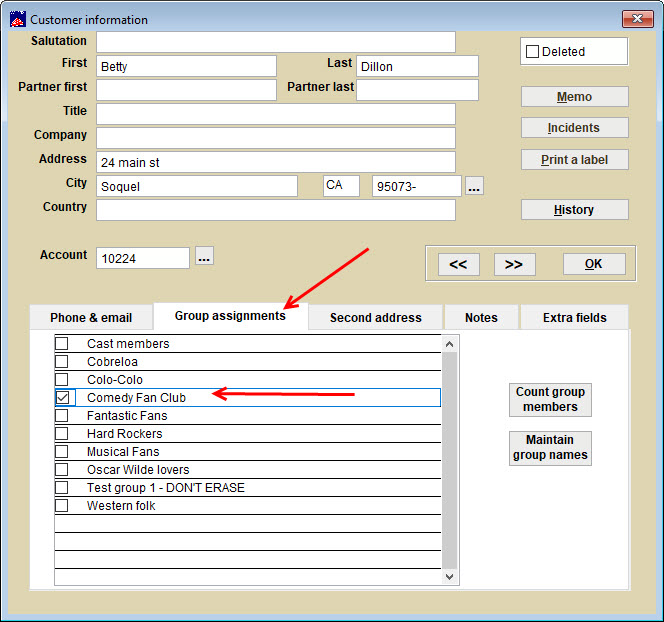 To sell Fan Club tickets
Select the show to go on sale to the fan club and add the fan club price(s).
To do this, go to Edit a show | <click on the show performance> | go to Categories and prices | click on the ellipsis.
The Detail for price category window will appear.
You will chose the letter on the seating chart and several options that include how many can be sold per performance, and per order, as well as as on and off sale dates.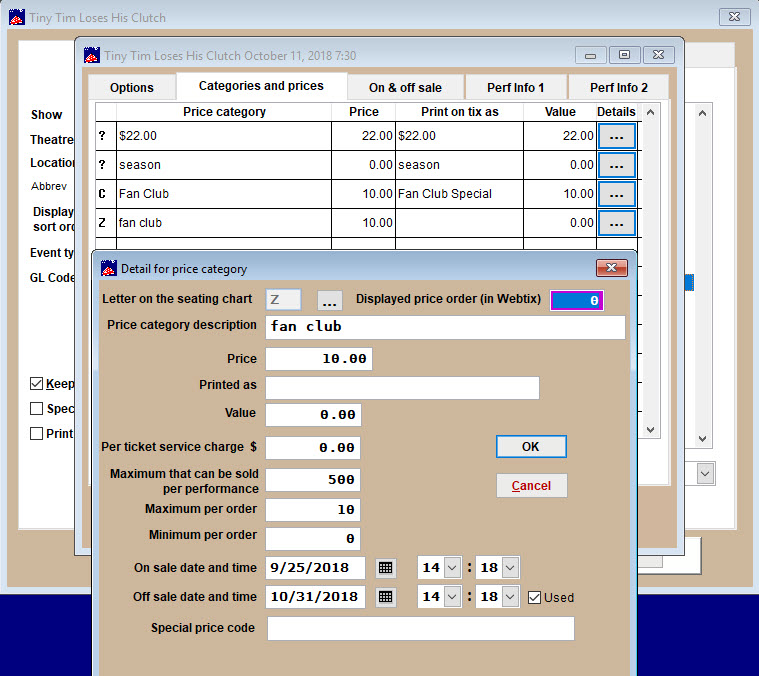 Click on the Run of show prices button and click  Add a price. Enter the detail for the price.Note: Put in a maximum number of tickets per order. You don't want the fans buying up everything with the first sale.
Make the On sale date and time to be the time you want these advance tickets to go on sale
When done, click  OK | Save changes.
Set up the domains – first will be the internet domain
Click on Internet options | Domains
Check all the prices that you want to have on sale – including the fan club
In the Performances go on sale box, set the number of hours that the rest of the public will be able to get the tickets. Click  After the on sale setting. In this case, 168 hours divided by 24 = 7 days. That means that the public will be able to purchase the tickets a week after the fan club gets them.
For the fan club domain
Check the fan club price
You do not need to worry about the on sale and off sale settings
Now, the tickets are on sale to the fan club – and the fan club only
As the fans purchase tickets, they will be removed from the fan club list to prevent multiple sales.
In this case, seven days after the fan club tickets go on sale, the general public will be able to purchase what is left.
When you notify the fan club that tickets are on sale, remind them that they will need their email address and password in order to log in.Notes about passwords in Wintix 6:They are saved in SHA256 encryption. If a customer forgets their password, the only thing you can do is re-enter it. There is no way to find out what it is. Passwords are case sensitive.  Testing NotesYou need to do two phases of testing: A) as a member of the general public. B) as a member of the fan club.
Complete each test transaction. Use your own credit card and charge a transaction. When you finish, log into the processor and make sure your transaction shows up as being charged. When you are done, 'void' the transaction (You are not charged for a voided transaction. With a canceled transaction, you are).
Test yourself as a member of the general public first. Make sure the proper performances, prices and seats show up. As a member of the public, you will see a message when the event will go on sale.
Close your browser and restart it. This clears all the session cookies and any other data.
Test yourself as a member of the fan club. Again, make sure the proper performances, prices and seats show up.