(Last Updated On: September 26, 2017)
This tab (Show | Edit a show | Categories and prices tab) is where you set up your prices and price categories.
It's pretty self-explanatory. Name your price category, the price, what to print on the ticket and assign it a value, if applicable.
In this case, price category "S" stands for season tickets. Wintix 6 also allows you to have truly unlimited price categories, so you can have as many price categories A, B, C, etc. as you like. Just make sure there is a description to go along with each letter if you have more than one price category assigned to a letter.
If you click on the Details button, you'll find many valuable features.
These are particularly useful if you are dealing with fan club members or are offering a special, limited pricing plan.
You can set the minimum and maximum tickets sold for the performance or per order and set on and off sale dates and times, so the tickets in the price category are only available for a limited time.
NOTE: Pay close attention to the On and Off sale dates. If you accidentally set your price to go off sale before you mean to, you will get the following message when trying to sell a ticket at that price:
No price codes available…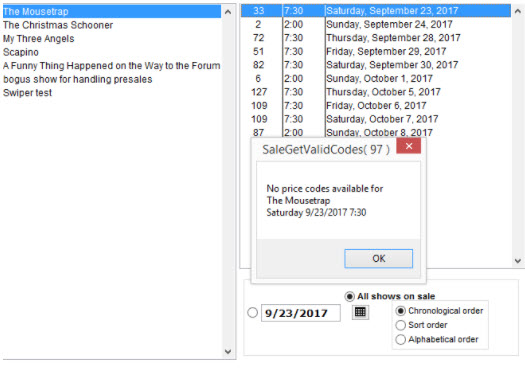 If you get that message, just go to Show | Edit a show | <select the performance>.
Click on the Categories and prices tab.
Click on the Ellipsis button in the Details column.
Correct the Off sale date and time.