(Last Updated On: March 19, 2014)
These types of failures are not normally covered under warranty.Under the microscope we see evidence of physical damage. Possible causes include the following.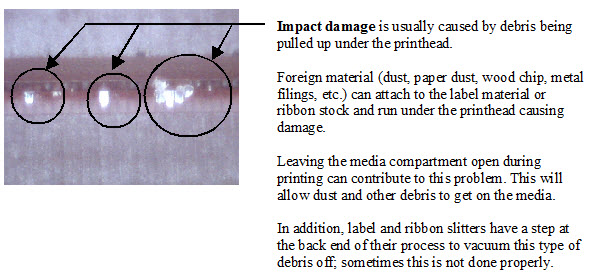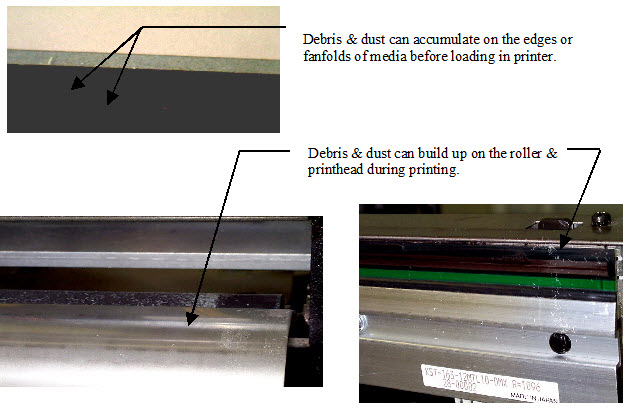 Operators can make certain process adjustments to prevent failure due to impact damage or abrasion by:
Using the head lift adjustment cam for less-than-full-width media, or

Using ribbon that is just slightly wider than your media. Ribbon sizes .250" to .330" wider than 3" or 4" wide media are commonly available for this reason.
Consider the environment of printing area. Is it dusty or dirty? Is printer door closed all of the time?

Consider the supplier of the media for this application. Sometimes label and ribbon manufacturers vacuum off their products during processing, sometimes this is not done properly.

When using this kind of media it is imperative to clean the printhead at least after each 10,000" of printing. Follow recommended cleaning routines using alcohol or Datamax cleaning film
DPO 70-2087-01 for 4" wide 3 packs DPO 70-2087-21 for 4" wide 12 packs.
DPO 70-2087-02 for 6" wide 3 packs DPO 70-2087-22 for 6" wide 12 packs.
Operators may also wish to reconsider the choice of media (fanfold) as it results in a high level of debris and dust. A continuous (on the roll) media may reduce debris accumulation.