(Last Updated On: January 27, 2017)
Imagine. You've been smiling all day and maybe humming a little tune because you went to a fun theatre production or special event the night before. You've been in a great mood all day.
Now you turn on your computer, and there in your Inbox, is a special thank you from the theatre for attending!  "Wow," you say to yourself. "That was really nice. I can't wait to go back again!"
As a Wintix user, it's easy to send a thank you email that helps nurture good relationships with your patrons, so here's a quick tutorial on how to create an email list of people who attended a certain performance. All you have to do then is export it to your favorite email program and send a thank you.
NOTE: Many companies (Center Stage Software included) use affordable email programs like Constant Contact or MailChimp to communicate with their customers by building attractive, effective email marketing campaigns. If you don't already use one of these services, you may wish to learn more about these programs.
PRO TIP:  You can create many types of email lists to communicate and market to your patrons. You can create email lists of event types (say, jazz, to email about upcoming shows your jazz lovers may like). You can create email lists to remind patrons their performance is coming up, and much more. Your imagination is your only limiting factor.
Here's how to create an email list for a thank you email:
In Wintix, go to Reports | Other reports | Export email.
Select the Select by show or performance tab (see screen shot below).
Make sure the Output file type is Spreadsheet and that Skip records with a blank email address is checked.
Click on the Select by a single performance radio button, then in the right hand column, scroll till you find the performance you want and check the box.
If you want more fields on your list, other than the name and email address, you can click on the Fields to export tab and choose as many as you want on the list.
Click Export list.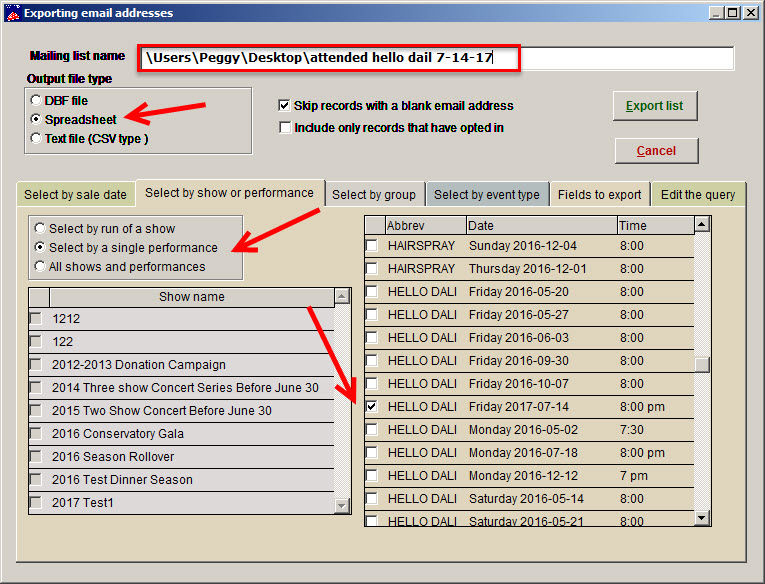 You will now have a spreadsheet of people who are attending your upcoming show, which can be uploaded to your email marketing service.
NOTE: If there is more than one email associated with a patron, you may have to clean up your spreadsheet a bit because, in general, email programs like Constant Contact won't accept more than one email address in a cell. (See example below.)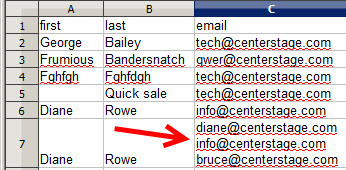 Here's what it looks like cleaned up: