(Last Updated On: February 23, 2016)
One of our Wintix/Webtix users had a specially added performance with different price categories they needed to sell online with Webtix.
They didn't want to alter or add price categories to the original show, so they set up the added performance as a separate show. Because their shows display chronologically in Webtix, though, the added performance didn't appear directly next to the original performance dates.
If this is something that you find you need to do, there are a few options.
Contact support@centerstage.com. We can reset Webtix to display alphabetically.
Change the display sort order.
Add a link to the added performance show in the ShowInfo tab of the original show

Go to Show | Edit a show | Internet options | ShowInfo tab
If you have someone fluent in HTML, they can input the show link code. For a nominal fee, we can provide you with the correct HTML code.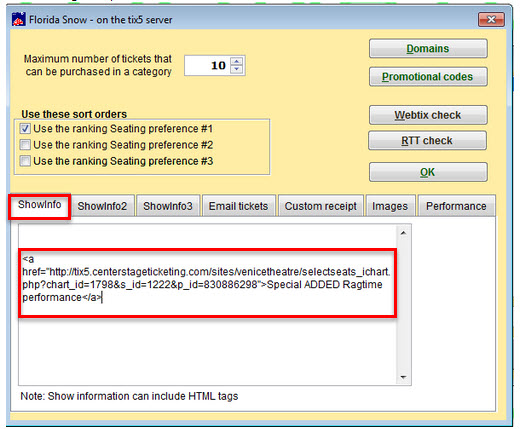 Here's an example of what it looks like online:
When you click on that link, it takes you to this page: