(Last Updated On: November 5, 2014)
On October 10, 2014, Center Stage Software learned that some patrons of our customers were unable to complete a purchase through Webtix because of an outage at Authorize.net. In addition, because of this outage, some clients were unable to sell tickets in Wintix. When trying to process a credit card in Wintix, they received the following error: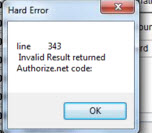 Many of our customers use Authorize.net as a credit card processing gateway and it is this  outage that caused the problem. While rare, outages such as these do occur.
If you are using Authorize.net and experience an outage, the best way to learn if Authorize.net is the cause is to log in to your Authorize.net account.  You can see alerts under the "Announcements" header.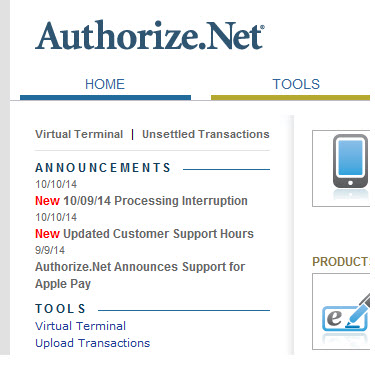 You can also go to their Facebook page, where they post status updates.
Here is an announcement from Authorize.net about the outage.
10/09/14 Processing Interruption
CyberSource and Authorize.Net experienced a 74 minute network outage from 2014-10-09 19:19:00 PST (2014-10-10 02:19:00 GMT) to 2014-10-09 20:33:00 PST (2014-10-10 03:33:00 GMT) that impacted all processing services. During a planned network change, a firewall was misconfigured. This misconfiguration impacted transaction processing in our primary data center, as well as the ability to switch to our back-up data center.
The nature of the failure also prevented customer service teams from accessing systems used for merchant communications. Messages were posted to social media until connectivity was restored. Once restored, notifications were sent.
Additional controls have been established to mitigate the possibility of recurrence. Executive management approval is now required for all changes. In addition, revisions to our peer review policies and the expansion of lead times to plan and prepare for changes have also been put in place. Assignments have been made to review our communications infrastructure and protocols, with a mandate to develop an immediate action plan.
Authorize.Net will expand support to Saturdays from 6:30AM to 2:30PM Pacific time beginning October 11, 2014, and 24-hours Monday – Friday beginning Tuesday October 14, 2014. Additionally, weekend hours will be extended when maintenance is planned.
Please accept our most sincere apologies.
Sincerely,
Authorize.Net