(Last Updated On: July 14, 2017)
If you are using an email service like Yahoo or Gmail to send receipts through Wintix or Webtix, this could become an issue for you. And it could become an issue with other email providers in the future.
Occasionally, we hear from our clients that box office and online patrons are not receiving the customer receipt and the ticket PDFs attached to the email confirmations.
NOTE: Before you do anything, please check your SPAM folder first to make sure it's not in there.
Also, your email address may have been mistakenly reported as spam.
What has been happening is that email servers have made changes in their authentication policies that result in bounces for some senders. You will want to set up an alternate email to send your receipts. We can set you up with a @centerstageticketing.com address if you need one.
    It will probably happen again with another company. In other words, Yahoo and             Google may be the first, but not the last.
    These schemes are pretty common when people try to stamp out spam. It is a                   constant battle with the spammers.
    If you are not receiving the email receipts, let us know. We can investigate the cause.
    We are here to help! Because of the complexities of this issue, you may need our             expert tech support.
When we investigated one instance of this problem, this is what we learned:
Some of the email was getting delivered.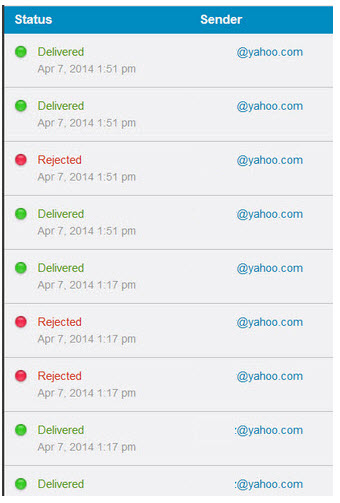 The emails that are rejected are listed as "soft bounces." According to the email provider Mandrill that means:

Bounces are undeliverable emails. They are generally separated into two categories: hard bounces and soft bounces. Mandrill utilizes a specific set of heuristics to determine whether a bounce should be classified as hard or soft. Typically, permanent errors such as non-existent mailboxes will get classified as hard bounces, while quota errors and other temporary issues are treated as soft bounces. Mandrill handles bounces and reports them automatically in your account. Hard bounce rejections last longer than soft bounce rejections, and Mandrill doesn't automatically convert soft bounces to hard bounces. If you're seeing a lot of soft bounces to an address, it may be a sign that the address is unusable.
Here is a report on a soft bounce:

Read what Mandrill has to say about the issue: http://blog.mandrill.com/yahoos-recent-dmarc-changes-and-how-that-impacts-senders.htm