(Last Updated On: April 17, 2015)
The Report by clerk will help you:
Catch accounting discrepancies each day
Keep box office staff accountable and detail-oriented
See how much you are selling online with Webtix
In addition to running a daily sales report, the Report by clerk will help catch any accounting errors that occurred that day, especially in box offices with multiple clerks.
When you run the Report by clerk, that tells you how many sales each clerk is responsible for, how much money they have collected, and the payment methods used. This helps keep people more honest and pay attention to detail because everyone knows they are accountable. It also helps find mistakes and problems in a timely manner because if reconciliation isn't done every day, the errors will compound and be much harder to fix later.
You can run this report for one clerk:
Reports | By day | Clerks | Report for 1 clerk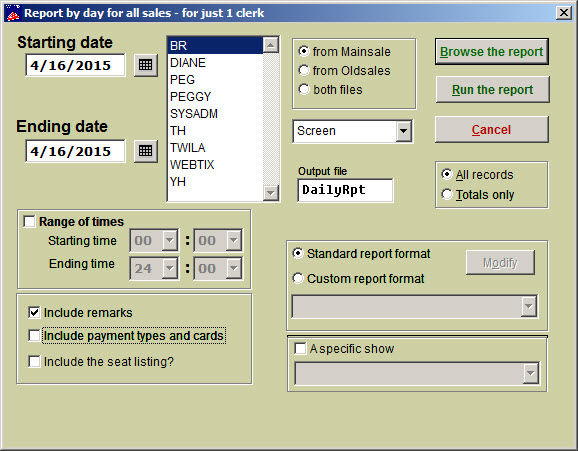 OR for multiple clerks:
Reports | By day | Clerks | List of clerks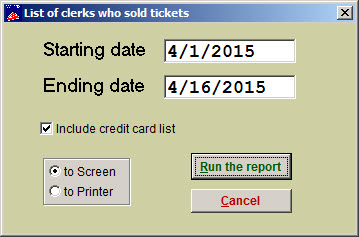 The Report for 1 clerk looks like this: (NOTE: On the main Report for 1 clerk window, choose RUN the report to the SCREEN).
If you need to print it, right click on the report and click Print.
At the end of shift, have your clerks count their cash drawer (or envelope or whatever you are using), as well as run a tape on checks and credit cards to make sure everything balances.
It's also a good idea to have Wintix installed on your accountant or bookkeeper's computer so they can run reports when they need them.
If you run the List of clerks report, Wintix will show you by clerk how many tickets they sold and total sales per clerk.  This report also has a sales percent column, so you can see percentage of sales each clerk is bringing in.
This is especially important if you are selling tickets online with Webtix. Is Webtix paying for itself? It's easy to find out. As you can see in the example below, Webtix sold 78% of the tickets!