(Last Updated On: July 20, 2021)
If you are processing a credit card in Wintix and receive this error , it means that you do not have the correct link for Authorize.net entered.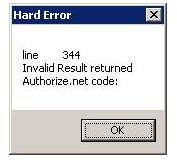 In Wintix, go to File | Initialization | Credit cards and enter https://secure.Authorize.net/gateway/transact.dll in the Link field.  All characters have to be exact.