(Last Updated On: May 22, 2018)
NOTE: This is standard office procedure. It must be done. If you have multiple clerks, each clerk needs to balance their own cash drawer. That way, they can correct any mistakes when their memories are fresh. They sign their report and turn in the corrected copy of their daily sales report to the box office manager. The box office manager staples the reports together along with the bank deposit slip.
This is put in a file drawer until The Day of Reckoning (the auditor arrives). When that happens (and it will), show that you have copies of each days sales stapled to the bank deposit slip. Look the auditor in the eye and say, "Go ahead. Make my day."
At the close of your business day, it is very important to:
Count your cash and note how much cash you've collected, if any.
Run a calculator tape of checks you've collected, if any.
Run a calculator tape of credit card receipts, especially for those taken for in-house sales.
For online sales, you will probably not have any hard copies of your receipts. Don't worry, you can run a separate Wintix report for Webtix sales only (this is the Report | By day | By clerk.  If you have an actual physical credit card terminal, you will probably have credit card receipts that have been printed from this device and placed inside your box office cash drawer. The credit card gateway will have its own report. If you have permission, you can get it too.
Next, run a daily sales report in Wintix by going to Reports | By day | Sales report
The screen shot below is the window you see when you are going to run a daily sales report.
For reconciling, we're only looking to balance our box office drawer so it isn't necessary to include all transactions. Choose the Totals only radio button.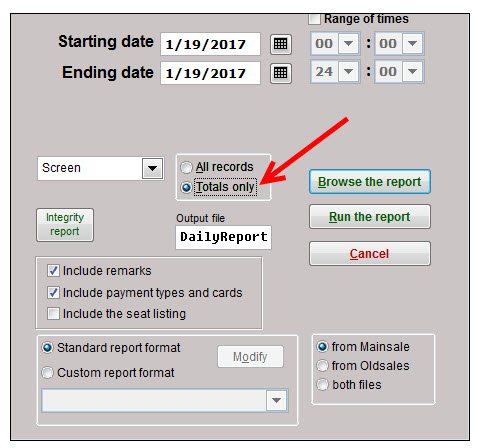 Note the starting and ending date. If you're reconciling for today, these dates are automatically entered into Wintix.  If you want to reconcile for another date, you can make changes here.
When comparing your Authorize.net credit card sales, you may click on the Range of times check box and choose the time range to synchronize with your Authorize.net batch settlements. It looks like this in Wintix 5: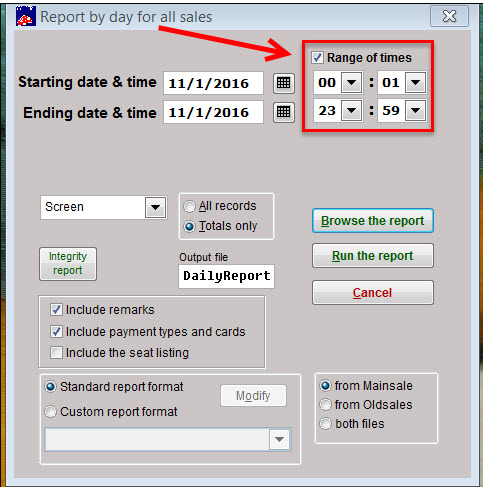 In Wintix 5, the window is slightly different, but the the options in the check boxes and radio buttons are not applicable if you choose Totals only.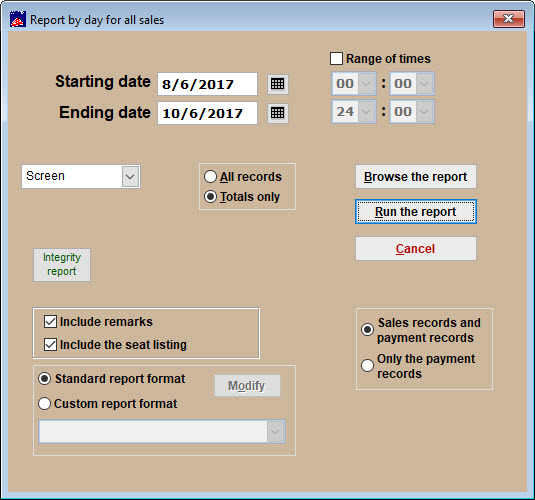 Click on the Run the report button and send to the screen. This is an example of what you'll see: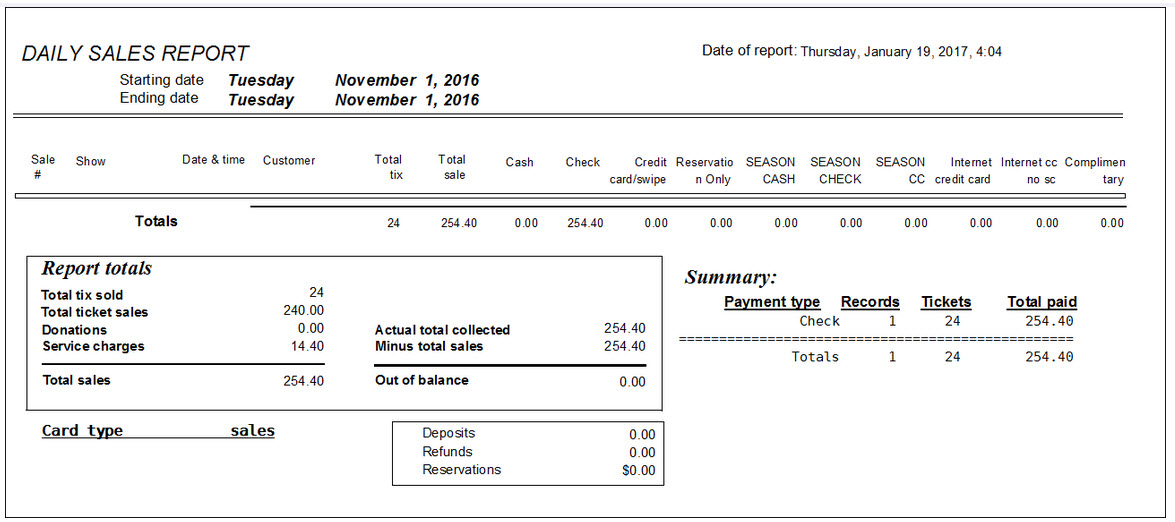 Reconciling with Authorize.net:
In addition to running a daily sales report, it's important to reconcile your credit card transactions. If you are using Authorize.net as your payment gateway, you can set up a time within Authorize.net to get your batch each day (a 24 hour time period of your choice).