(Last Updated On: September 29, 2015)
When you are trying to email tickets and Wintix prints the tickets to a PDF, do you see the following error? (-121:Class definition XWPDLX20.WPDLX is not found)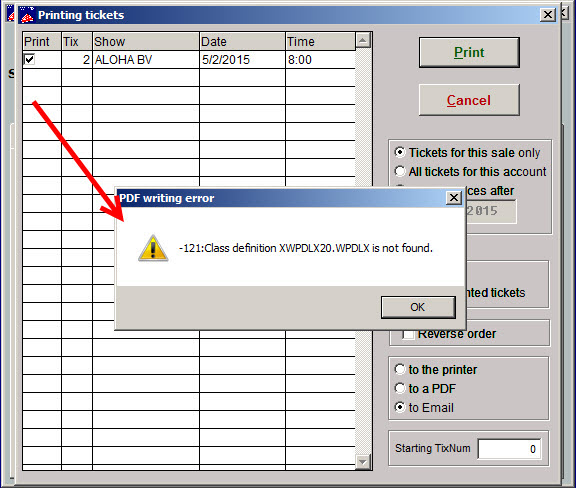 Please contact our support team (support@centerstage.com or 831-920-1254) and they will email you a .zip file.
They will change the extension of the file to .dld, so your email server won't block it.
Save the attachment, XFRX.dld, to your desktop.
Go to your desktop and right click on XFRX.dld.
Choose Rename from that menu.
Change .dld to .zip, so the file will then be named XFRX.zip.
Make sure Wintix is closed.
Right click on XFRX.zip and choose either Explore or Open in new window.
Copy all files that are zipped into XFRX.zip (there should be four files).
Paste all four files into the C:\Tix7 directory, overwriting the current ones, if there are current ones with the same name.
Open Wintix and try printing the tickets to an email.