(Last Updated On: March 28, 2017)
To get publicity codes to pull up for each sales record, please contact support@centerstage.com or (831) 920-1254 so we can email you two files you will need!
Save both of the attached files into the C:\Tix7\Reports\Day\Sales folder.

Run a Report | By day | Sales report.
Choose the starting and ending dates.
Choose any other options you wish.
Choose Custom report format at the bottom of that Report by day for all sales window (see screen shot below).
Click Run the report.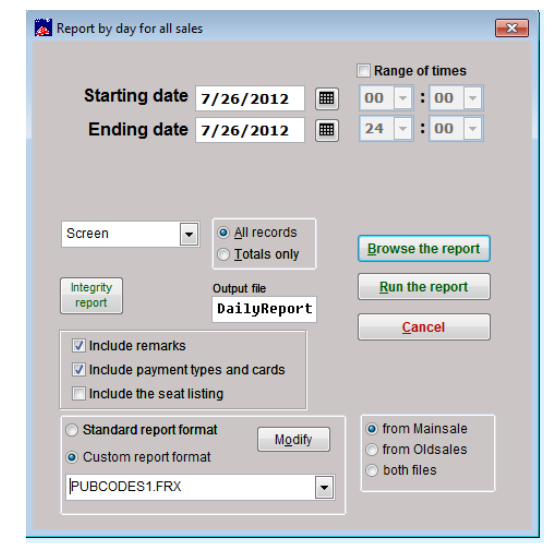 This will give you the publicity code ID beside each sale record listed on the report. T

he ID is a number that Wintix generates in the background to identify each publicity code).

Go to Report | By show | Publicity.
That will give you a list of names that coincide with the publicity_code_id  that you got from the first report.

NOTE: Currently, there is no report that has been formatted to pull publicity code names into a daily report.
If you'd like a custom report built for you, which would be considered custom work.  Our rates for customization of reports, etc can be found on the Center Stage Software website.