(Last Updated On: March 20, 2020)
This will most often occur in cases of family emergency or unexpected cancellation of a show.  
In a case like this it is better to move the patron's tickets to a holding show. The income from their purchase will not be counted under the cancelled show.
To set up a holding, go to

Show | Utilities | Add a new show.

Make sure to name this show with a year and a title that will be easy for your box office personnel to identify.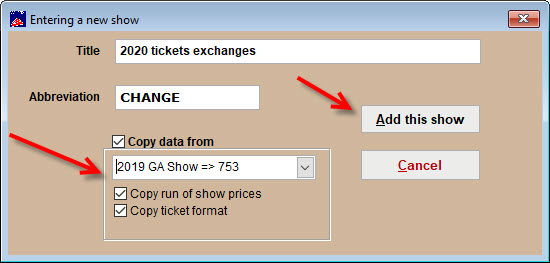 NOTE: If you have the same prices throughout your season (i.e. every A price category is $25, every B is $20) then you can copy run of show prices from another show into your season.
If they are not the same, uncheck the Copy data from box. Click here for adding new run of show prices.
Click 

Add this show.

Please make sure to fill out the theatre name and location.

Click 

Add Date.

We recommend that the date you choose is the last date of whenever

 your exchanges will be valid.

 

In this example, the exchanges are only able to be exchanged through the end of the year 2020.

So

the date will be set as 12/31/20 and the time will be set as 11:59 PM.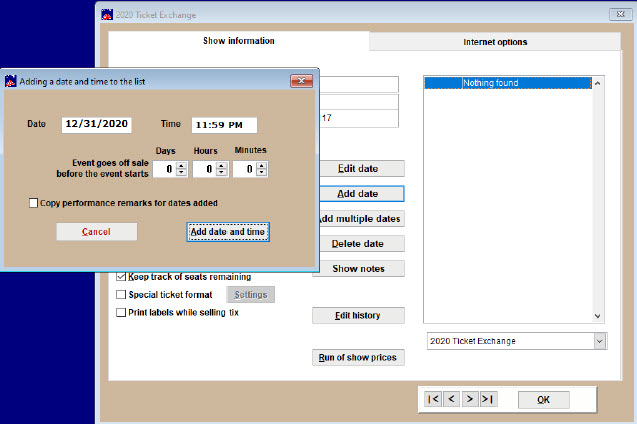 Click 

Add date and time.

Click 

Edit date.

If you use a seating chart for your 

shows,

use a seating chart for your holding show. It doesn't need to be the same seating chart as a normal show.

NOTE: It's important to apply a seating chart to your holding show when you're selling tickets for a show with a seating chart.  In doing exchanges, Wintix is programmed to exchange from one reserved show to another reserved show. General admission events are exchanged for other General Admission events.

In most cases, it is better to make a seating chart that is a block (usually more seats than your normal seating chart).

 

Attach that seating chart to your show by clicking 

Use a seating chart

 then 

select

Yes

 

to create the chart.

Select your seating plan from the list and click OK.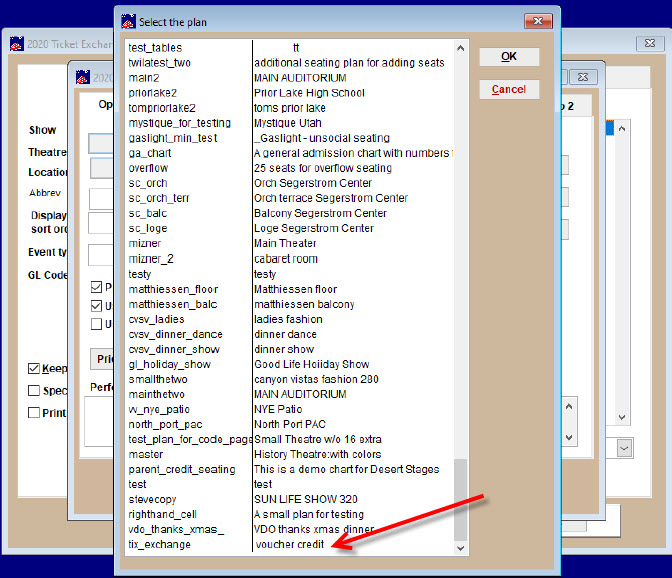 Select

Run of show prices

 
If you copied run of show prices from another 

show,

 this window will contain prices.

 

If not, then you will need to 

Add a price

 and fill out each individual price category until all your price codes for the season are represented.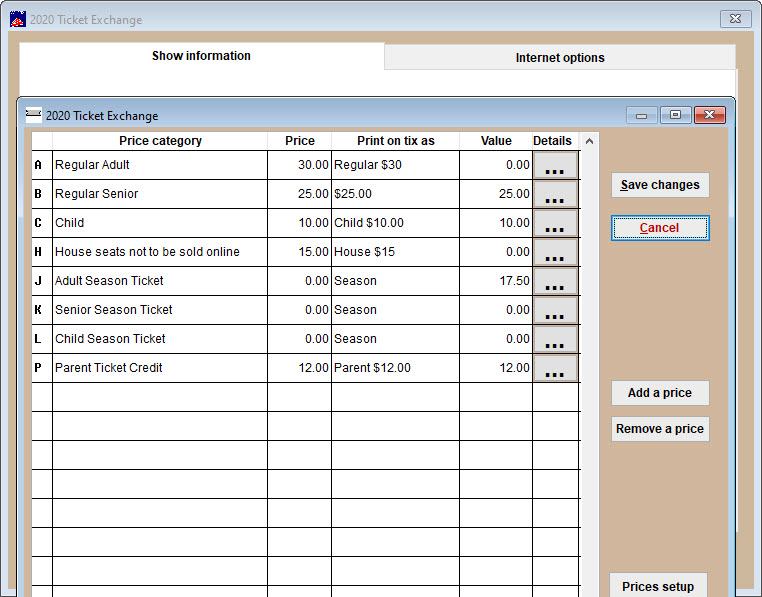 This show is now ready to be sold. You can simply exchange already purchased tickets into this show and then move the tickets from this holding show into whichever show and future date has been chosen.