(Last Updated On: February 22, 2017)
Previously, due to PCI regulations, our shopping cart had to direct patrons to Authorize.net to complete their purchase. This is called the SIM interface (Simple Integration Method). If the purchase is completed while in Webtix, this is called AIM (Advanced Integration Method). The main difference between SIM and AIM is that SIM redirects the user to a page on the Authorize.net server in order to collect the actual credit card number of the user. With AIM, no redirection is needed and the credit card number can be entered on the site.  The screen shot below shows the Authorize.net page for payment via SIM.
Learn more about the difference between AIM and SIM.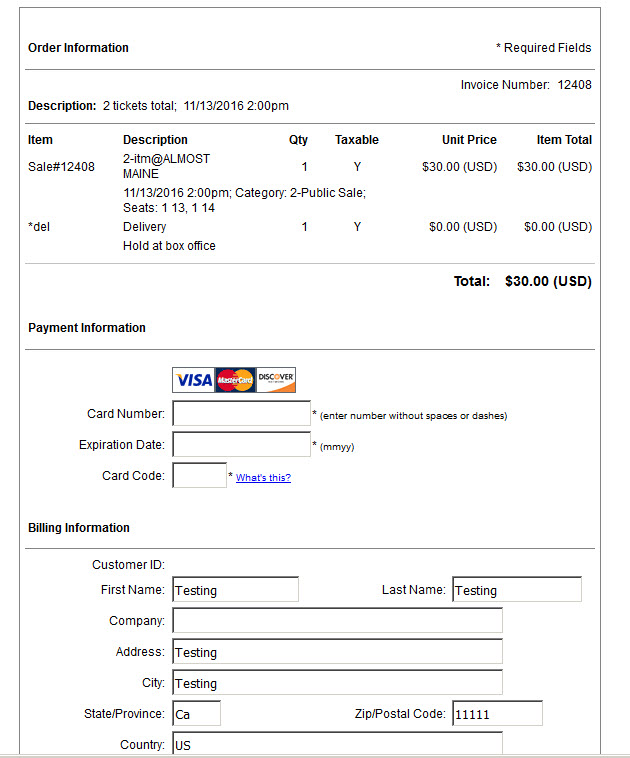 We are very excited that we can resume credit processing with AIM. This is a much needed change. In the early days of Webtix, we would collect the card number, expiration, and CVV2 on the checkout page. It made sense and everyone liked it.
Then, the Payment Card Industry (PCI) security regulations said to use the SIM method instead. Ever since then, we and our clients have not been happy. Everyone complained. The biggest problem was that by the time the online patron would get to the Auth.net page to input the credit card information, the Webtix shopping cart would have timed out without them knowing.
When that happened, the customer would have a charge on their credit card and they received no Webtix email confirmation. Only the box office would get the receipt from Authorize.net. The sale in Webtix would have been canceled and the seats released. When a patron would show up on the night of the performance, the box office would have no record of seats or sales record. To prevent this, we recommended to compare the Wintix daily sales reports to the daily Authorize.net sales reports.  That way, these instances could be found on the day of the actual sale.
The payment industry now allows us to use the original payment interface as long as we have the https:// lock. That lock shows that the site has an SSL certificate.
What does SSL stand for? 
SSL stands for Secure Sockets Layer.  SSL is the standard security technology for establishing an encrypted link between a web server and a browser.  The SSL link ensures that all data passed between the web server and browser remain private and encrypted.

Since Center Stage Software has a SSL certificate and hosts your Webtix shopping cart, any transactions made from here on out on Webtix are secure. The payment is still done through Authorize.net, but your online patron will be able to stay in the Webtix shopping cart and submit payment before the cart times out.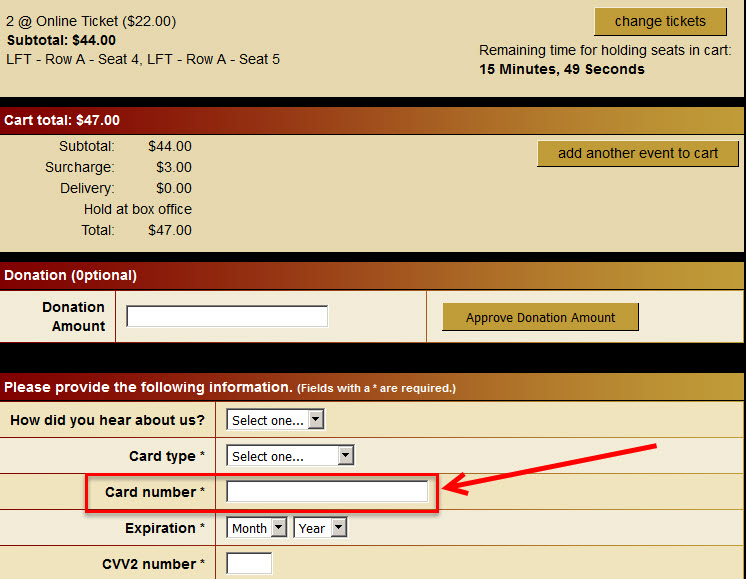 Please contact Diane Rowe if you would like to make this change to your shopping cart. Diane@centerstage.com or 831-583-0641.