(Last Updated On: February 18, 2016)
Get a report of how each event type is performing.  This can be a very useful report to see which types of show or event are selling well and which aren't. Your marketing department wants this. Trust us.
RELATED: Learn how to set up event types
In Wintix, go to Report | By show | Event type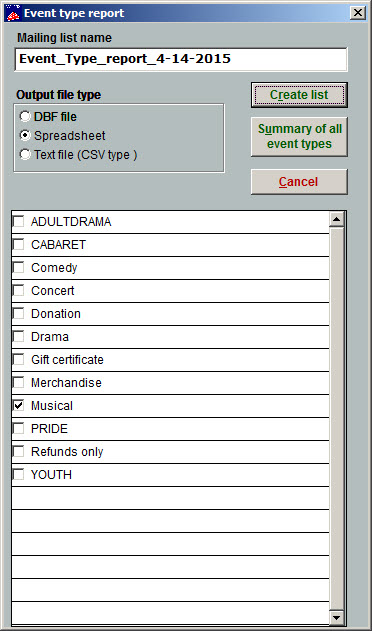 You can choose one event type or however many you choose. As you can see in the screenshot above, there are several ways to output the report. The report will show you the event type, how many sales records there are, the total amount of tickets sold and the amount of money collected.
If you want to send the created file to a mailing house, most houses we've dealt with like the file in csv or text (comma delimited format), so you would choose to output the file as a Text file (CSV type). The screen shot below is a sample of what the report looks like:

Run it to a spreadsheet and you can eliminate whatever fields you don't need.

This is a sample of clicking on the Summary of all event types button.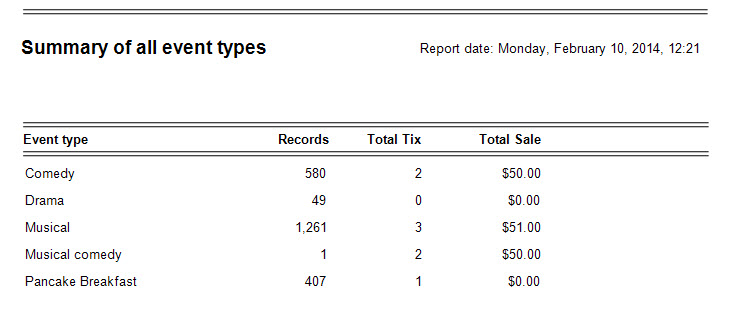 Whenever you run these reports, Wintix always sends these output reports to your C:\Tix7\Output folder.

In Windows Explorer (not Internet Explorer), you can find the files that you generated. (See screen shot below.)  When we create a report to be sent as a spreadsheet, the report will have an .xls extension. When we generate a report as a dbf, you can see the file with the .dbf extention.