(Last Updated On: May 11, 2017)
One of our clients asked:
I'm trying to find a way to run a report to see who has not bought any tickets in the last 3 years, rather than going through 2,800 + people one by one. Could you please help me with this?
Here is the solution…you can apply this to any date range.
In Wintix, go to Reports | By Day | Sales Report.
Choose a date range (our example started with the year 2000 and ended with today's date).
Choose to run the report to a DBF file.
Give it a unique name in the Ouput File field.
Click the Run the report button.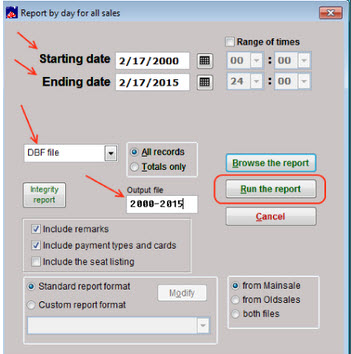 A yellow box will appear showing you how many records were found.
You'll have four choices.  Choose #4 – Cancel.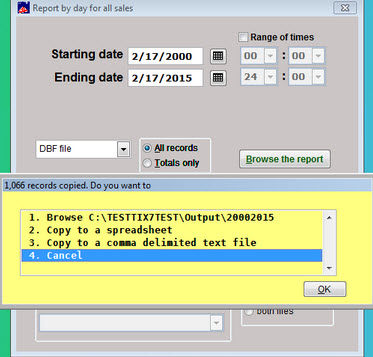 You'll now be back to the Report by day for all sales screen.
Change the starting date to whatever date you want.
Leave the ending date today's date.
Change the Output file name to another unique name.
Run the report.
When the yellow box comes up, click #4 – Cancel.
Now close the Report by day for all sales window.
Go to Mailing List|Utilities|Compare 2 files (subtraction).
In the left column, choose the wide open report with sales for the longest date range.
In the right column, for our example, we chose the 2012-2015 date range report.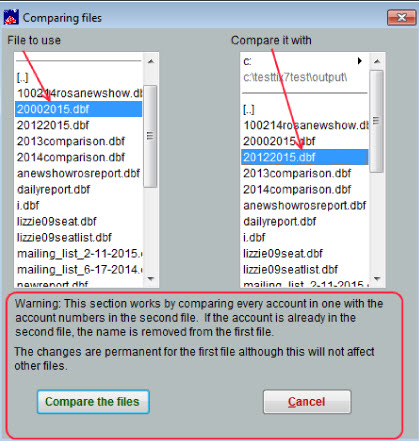 Read the Warning.  That will explain what happens when you compare the files.
Note, the permanent change is only for the DBF file you ran, not your database.
You will be left with a DBF file with only those patrons who purchased before 2012, but not since 2012.
The DBF file can be opened with Microsoft Excel and saved as a spreadsheet.