(Last Updated On: October 28, 2016)
Have you ever needed to add more seats to your seating chart but can't because once sales are attached to a seating chart, you can't modify the length or width of a seating plan already in use?
One of our customers reported they had sold all the seats on their current seating chart, but found out that they can physically add a couple of more rows to the floor.
This is what we told her to do:
Since she can't add rows to the existing plan,  she could create a new seating plan, then attach it to the show using the multi-chart option.
Click on the link below for information on using Multi-charts in Wintix:
We built a new seating plan that was 5 x 5, for a total 25 seats.
We assigned only price category T for all seats on this plan.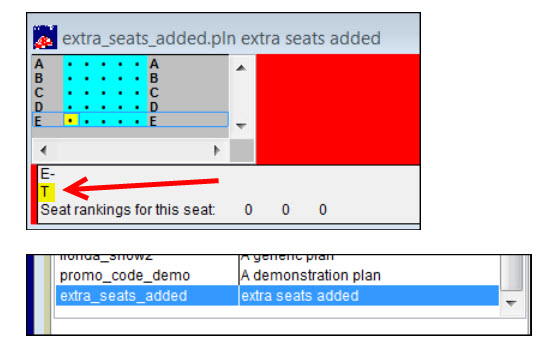 You should use a price category/categories that you are currently not using, then remove those categories/codes from the existing plan, so no one can purchase that category on the original plan/chart.
When you add your new plan to your existing show, using the multi-chart option, if you don't want to sell these extra seats online, do not allow price category T to be purchased online by making sure that category is UNchecked in Show|Edit a Show|Internet Options|Domains.
Then, when you sell tickets to the extra seats in house, you'll be able to choose the extra seating plan and sell to price category T (or whatever price category you've assigned to it).