(Last Updated On: May 11, 2016)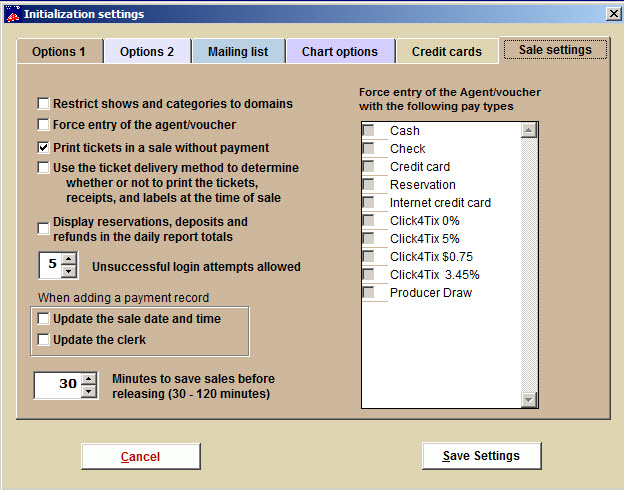 •
Agent / Voucher section is to keep track of who sold the tickets. It is used to keep track of commissions paid to ticket brokers, taxi cab drivers, bartenders, and concierges.  Different types of payment will require entry of an agent or voucher.
Print tickets in a sale without payment. This is how you close a security hole.
Use ticket delivery method. The ticket delivery method is a choice made when completing a sale. It determines whether or not the tickets get printed, how many receipts get printed, how many sale labels and how many customer labels. This is used by high volume operations that have several different ways of selling tickets. Examples of this would be: Counter sale, phone sale, will call, mail out.
Unsuccessful logon attempts. This lets you determine how many times people can try logging in.
Update the date, time, and clerk. This is useful for organizations that take reservations. The information can be changed to reflect the circumstances once the tickets are actually paid for.