(Last Updated On: October 15, 2015)
"Inactive names" is defined like this:
Inactive people are people who have not purchased anything since a particular date (the default is the last two years)
Inactive customers do not belong to a specified group
Inactive customers are people who have not been manually entered in the last six months
When the Remove the inactive names button is clicked, Wintix will go through all the names in the customer list. Every customer is checked against the parameters. If the customer is inactive, they are moved to the inactive table.
The names that are removed are not really gone. They are put into an "inactive" table. You can search for these duplications the normal way with a generic search.  (See instructions at the bottom of this post.)
NOTE: You have the option to view or download the names of those who will be removed before you remove them.
Go to Mailing list | Utilities | Remove inactive names
To view or download a report on names to be removed, click on the Report on the names to be removed button.
You can browse the report or download it to a spreadsheet or a comma delimited text file.
To remove the names, click on the Remove the inactive names button.
NOTE: if you check the box in the Exceptions field, you can save names entered after a date of your choosing.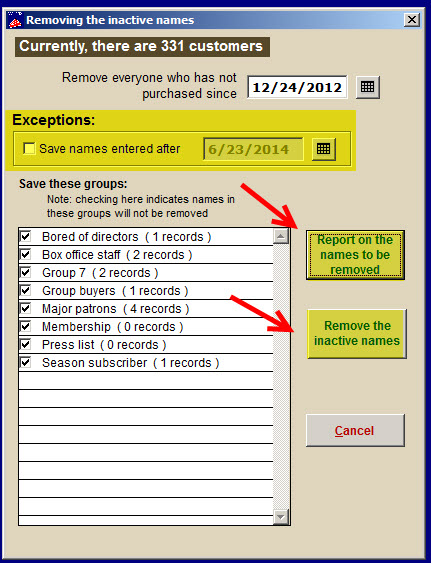 To search for inactive names:
Go to Mailing list | Customer lookup and click on the Generic search button.
Select the Search the inactive customers table radio button.