(Last Updated On: February 23, 2016)
Don't use Payment Types to add a per ticket service charge when making a season package (father) sale.
Each "daughter" sale of the father sale is for zero dollars, because all monies for that transaction were calculated on the father sale.
If there were a service charge added to the daughter sale, then it would be out of balance.
If you add the service charge in the show setup (Show | Edit a show | Edit date), Wintix still does not calculate the service charges on daughter sales, because, again, all monies are accounted for in the father sale.
Adding a service charge to the daughter sale would make it out of balance, because no money is exchanged on daughter sales.
One thing you can do, if you have fixed season packages, is to add the per ticket service charges into the Season Package prices screen.

For example, we have a "3 show package."
We want a $2.50 per ticket service charge for each of the 3 shows in the package.
Go to Show | Edit a season package.
Click on the Season prices button.
Enter $7.50 in the Per ticket service charge field.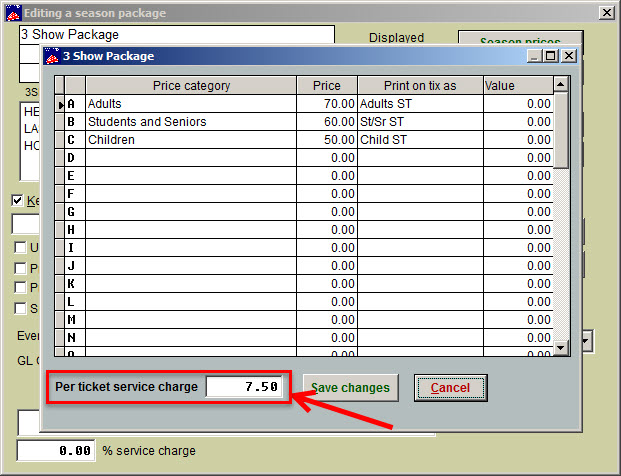 You will now have your per ticket fees paid for in the season package sale.
However, when closing the show and running the run of show report, the service charges will not be included in the totals collected for that show.
To remedy that, once the package sale has completed, you would end up with four sale records…one for the package and one for each of the three shows attached.
Edit the season package sale (father) by wiping out the service charges from the payment tab.  That sale will now be out of balance.
Then, edit each of the daughter sales by adding $2.50 service charge in the payment tab.
You would then have a run of show report for each individual show, that reflects the per ticket service charge.