(Last Updated On: April 26, 2019)
By default, the off sale time in Wintix show settings (Show | Edit a show | Edit date | On and Off sale tab) is set to go off sale at show time. That is the default time that is set when you add a performance date to a show.
Setting your show's on and off times can easily be changed by going to Show | Edit a show | (double click on the performance).
Click on the On & off sale tab. (See screenshot below.)
NOTE: Wintix uses a 24 hour clock, so remember to set the times correctly.
Also known as Military Time, the hours 1 through 12 don't repeat themselves as AM or PM.  One o'clock PM is 13oo, 2 PM is 1400, 3 PM is 1500, etc.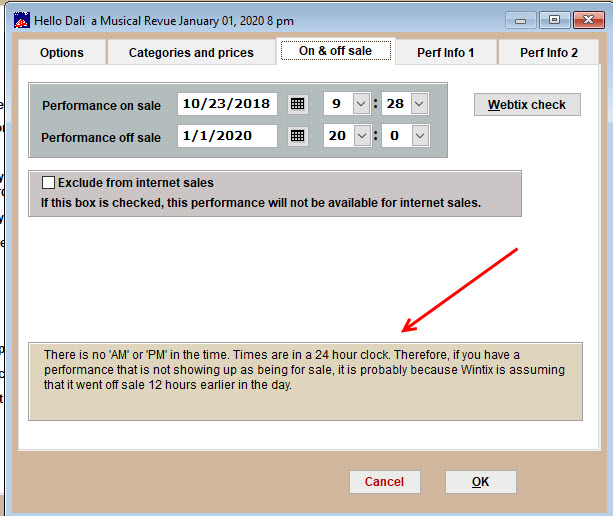 NOTE: Keep in mind that the off sale time affects Webtix, as well.  So if you want different settings for the off sale time for online sales, you will need to go into the internet options for that show.
See how to adjust your times while adding a show.