(Last Updated On: January 20, 2016)
Show | Edit a show | Categories and prices tab is where you set up your prices and price categories.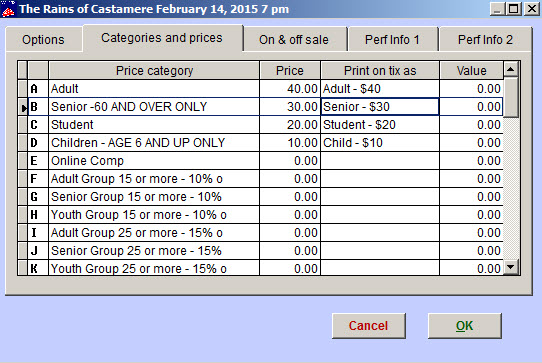 The following information is entered in the Categories and prices tab
fields:
Price category Enter a text description for the type of ticket to be sold. This description will appear on your computer screen during the ticket sale, not on the ticket itself. So, you can enter any information that will be helpful to the seller during the sale.
Price Enter the amount that you will collect for each specific type of ticket.
Print on tix as The text entered in this field will be printed as the price information on the ticket. You may wish to include the face value of the ticket, for example: $25.00.
Value The amount entered in this field is used to calculate sales figures for performance reports. The amount entered in the value field will depend on whether the ticket category is for a single performance ticket, or for a season package sale.