(Last Updated On: March 15, 2021)
Scaling the house is a procedure to sell different sections for different prices. For instance, it is common for an organization to sell the orchestra section at a higher price than the balcony.
The first step is to make a copy of your current seating plan by going to Tools | Seating plans.
Highlight the plan, then click Copy this plan.
Then, click Print a plan. Use colored pens to mark where you want the different prices.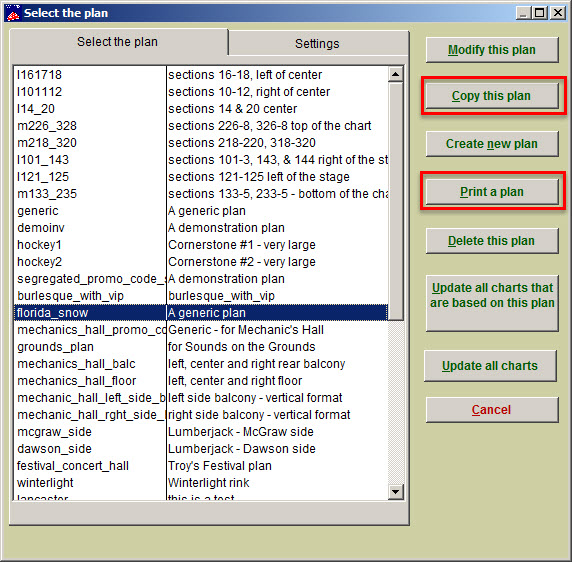 Modify the copy of the plan. The default in Wintix is for all prices to be available for all sections.
The next step will be to do a block select (right-click in one corner of the group of seats, then right click in the opposite corner [top left, bottom right for example) and select the section to change.
Change the available price codes in the area you've selected – let's use the following as an example:
Rows A,B, and C Center Orchestra would accept price codes A$0. only
NOTE: It is important to include $ (dollar sign), 0 (zero) and . (period).
$ is used to designate a Special price ticket
0 is used to designate a Comp ticket
. is used to return seats on a seating chart
Do the same thing for each section that has unique prices. What you are doing is telling Wintix and Webtix what prices can be put in for any section.
You do not need to change the status (and colors) unless you need to notify your customers that something is different.
The next step is to check the domain setup to make sure the right prices are there.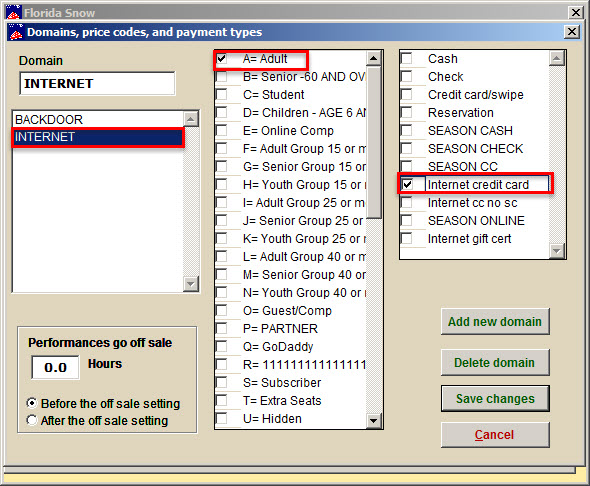 You should be done at this point. You can select seats in different sections. Only the appropriate prices will show up.