(Last Updated On: October 26, 2016)
Wintix generally sends an email for every sale, instead of attaching all ticket.pdf files to one email.
Sometimes, though, you want to send multiple ticket.pdfs in one email, such as all the season tickets for a season ticket holder, in just one email.
There is a way to do that, but it also requires you email the receipt with the tickets.
Here's what to do:
Search for sales records for the customer and open up any one of them
Click Print a receipt

Choose All sales for (date)
Choose To email
Check the box Email tix with receipt
Click Print the receipt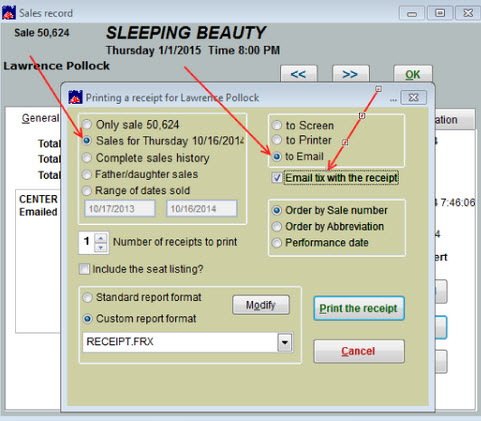 You will see a preview of each ticket.pdf file
Just close the previews as they come up
After closing all ticket.pdf previews, the Emailing window appears
You will see that the Attachments field lists the receipt.pdf, and a ticket.pdf for each sale you chose to email.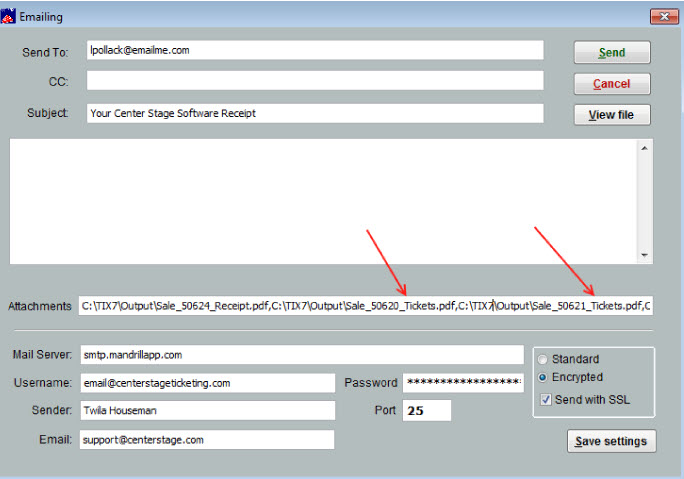 If you need one receipt for multiple sales, please contact Center Stage Software and we will configure your shopping cart for consolidated receipts.