(Last Updated On: May 3, 2017)
Use your Webtix admin section to run this report.
Don't have Webtix? Click here to learn to run a Performance Summary Report in Wintix.
You have a bunch of shows on-sale but you need to know which shows need an extra marketing push because of slow sales and which shows to pull ads from because they are close to selling out.
Log on to your Webtix login page. The URL will look something like the one below (replace the "X"s with your particular credentials.
tixX.XXXX.com/sites/XXX/admin.php
Use the following login information:
Login: sysadm
Password: sysadm

NOTE:  The login 'sysadm' is not assigned any particular domain in Wintix. In Wintix, the domain field for clerk 'sysadm' is blank.

In the Webtix Reports section, choose All sales for your domain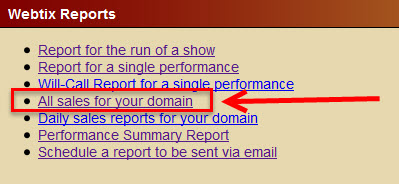 The report lists all sales for all shows (all domains, since sysadm's domain is blank)
The report includes Seats remaining, Capacity, Percent sold for each performance of every show.


Then you can press CTRL+A and CTRL+C and paste into a spreadsheet.